Elizabeth A. Reid*
Shareholder
Profile
Elizabeth practices as both a barrister and a solicitor focusing on employment, labour and human rights matters. She also has a strong background in corporate/commercial and business law.
Elizabeth has represented clients at every level of court in British Columbia, as well as in proceedings before the BC Human Rights Tribunal, the BC Employment Standards Tribunal, the Workers' Compensation Board and the Canadian Human Rights Commission. She is regularly consulted for advice on termination packages, employment contracts, union certification drives, wrongful dismissal claims, disciplinary measures, and other issues arising in the workplace.
Having clerked at the BC Court of Appeal prior to her call to the Bar, Elizabeth brings valuable experience in conducting research and analysis for members of the judiciary. She is the recipient of awards for achievement in employment law and appellate advocacy.
Education
University of Victoria, LL.B.
University of Victoria, B.Sc. (Hons)
University of Victoria, B.F.A. (Theatre)
Year of Call: 2006 (B.C.)
Video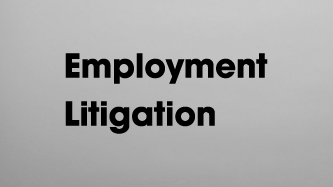 Professional Activities
Executive Member, Employment Law Subsection, BC Branch, Canadian Bar Association
Member, Vancouver Bar Association
Faculty Member, CLEBC Employment Conference 2014; CLE Human Rights Conference 2011
Member, BCHRMA and Canadian Bar Association, Human Rights and SOGIC Subsections
Volunteer, Catherine White Holman Wellness Centre
Judge, Canadian Rounds of the Philip C. Jessup International Law Mock Trial Competition, 2005–2009
Past President of the Board, Rumble Theatre
Speaking Engagements
"Do's and Don't's in Hiring: When Your Offer Letter Isn't Enough" Webinar, Better Business Bureau, September 2014
"Transforming Your HR Practice: Transgendered Persons' Legal Rights", BC HRMA Legal Symposium, May 2014
"Transgendered Persons' Rights in the Workforce", BC Continuing Legal Education: Employment Law Conference, May 2014
"New Challenges for Cross Border Travellers: Managing the Global Employment Relationship", Boughton Law Seminar, May 15, 2014
"Same Boat, Different Captain: Employment Issues in Asset Purchase Transactions", In-House Continuing Professional Development Seminar, March 2013
"Foreign Workers: Employment and Human Rights Issues", Client Seminar, June 8, 2012
"Managing Addictions in the Workplace: Legal Implications", BC Human Resources Management Seminar, May 2012
"Disciplinary Procedures and Dignity at Work", Client Seminar with ProActive ReSolutions, April 27, 2012
"Transforming Your Practice: Gender Identity in the Workplace", BC Continuing Legal Education: Human Rights Conference, November 24, 2011
"Culture Clash: Human Rights and Foreign Workers", Client Seminar, May 5, 2011
"The Danger of Being Wrong About Human Rights", Client Seminar, March 25, 2010
"Canadian Employment Law: The Basics", Doing Business in Canada Seminar, Seattle, Washington, March 5, 2010
Guest Speaker, with Noah Sarna, "Me Inc.: The Legal Issues of Starting Your Business", University of British Columbia Sauder School of Business Students' Society, November 4, 2009
"Overview of the Human Rights Process and Proactive Strategies to Avoid Costly Human Rights Claims", Canadian Institute's Duty to Accommodate Conference, June 24, 2009
"Drug and Alcohol Testing in the Workplace Privacy Issues", Lorman Education Services, March 2009
News & Media
Blog
Representative Transactions
Defending an employer against unfounded claims of racial discrimination
Advising an entrepreneur on his ability to compete with his former employer
Advising a large retirement community employer on its rights and obligations when faced with union certification